Is Brendan Rogers Improving Liverpool?
Introduction
As well as using my EI Index to predict future matches, it can also be used to look back at how team's performances have changed over time. An interesting example is Liverpool, who sacked Kenny Dalglish at the end of the 2011–2012 season to bring in Brendan Rogers from Swansea City.
The green line in Figure One shows the weekly EI rating for Kenny Dalglish's Liverpool team over the course of the 2011–2012 season, with the black line showing the moving three-match average. Up until around Christmas time Liverpool were making decent progress in terms of EI, improving from a rating of 2127 up a peak of 2247 following their 3-1 victory against Newcastle United.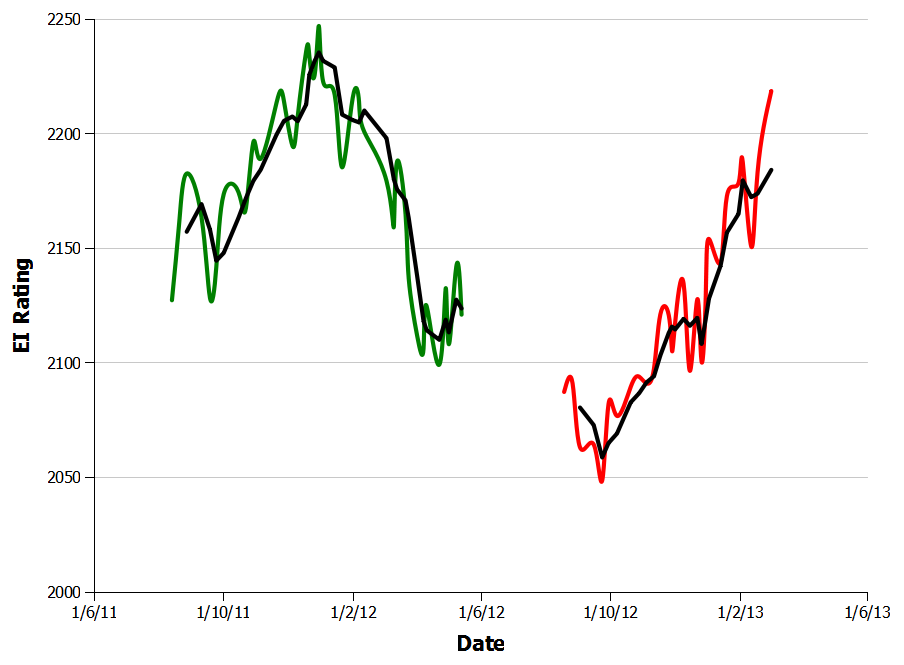 However, Liverpool's form plummeted soon after that, with 11 losses out of their remaining 19 matches dragging Liverpool's EI back down rapidly. Their worst performances in terms of EI were losses against Bolton Wanderers and Wigan Athletic, both of which Liverpool's EI ratings suggested they should have had a good chance of winning. Despite a small flurry at the end of the season, Liverpool still finished with an EI lower than they started with.
In contrast, the red line in Figure One shows Liverpool's weekly EI ratings under Brendan Rogers, with the black line again showing the moving three-match average.
The first few matches of the season did not go particularly well for Rogers and Liverpool's EI dropped even lower than under Dalglish. The obvious narrative here is that Liverpool may have needed time to adjust to Rogers tactical changes but it's also worth noting they had a tough start to the season, with fixtures against Manchester City, Arsenal and Manchester United all within the opening few weeks.
Since then, Liverpool has shown a pretty steady increase in EI over the rest of the season. There have been a few drops along the way due to unexpected losses against teams such as Aston Villa and Stoke but their EI rating is currently on course to exceed Dalglish's peak by the end of the season.
To put these numbers into context, Chelsea are currently in fourth position with an EI of 2464 while Tottenham Hotspur finished fourth last season with an EI of 2329. While Liverpool's EI isn't quite that high yet, if they can maintain their current rate of improvement then their EI rating suggests they have a decent chance of challenging for a Champion's League place next season.
addendum
In case anyone wonders why Brendan Rogers' starting EI is lower than Kenny Dalglish's final EI – Brendan Rogers lost his first match against West Bromwich Albion so the difference between the two is the loss in EI caused by that particular match.
Comments